I'M COURTNEY ann, AKA TEXAS THIGHS. I AM A BUSY MOM AND WIFE THAT LOVES HEALTH AND FITNESS BUT ALSO LOVES HAVING FUN IN EVERYTHING I DO! I AM EXCITED TO SHARE MY WELLNESS JOURNEY including the crazy adventure of starting a fun IG page. I want to INSPIRe people TO FEEL THEIR BEST AND SHOW THEIR SEXY SIDE! I aspire daily to truly live life to its fullest and spread love and POSITiVity in everything i do. This website encompasses all the many facets of my life including my struggles as well as how i include health, fun, cheekiness, charity, and everything in between into my daily busy mom life.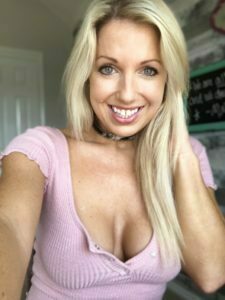 Basically I am a mom and a wife that loves to have fun in everything I do! Anyone that knows me will tell you that I am a total cheesy goofball that has fun, can be pretty crafty, loves my family to death, loves my Cowboys, has to have weekly doses of queso and chips, enjoys super abrasive comedy, cares about everyone, laughs at myself constantly, super emotional and can laugh or cry at the drop of a hat, beyond easily distracted and scatterbrained, goes overboard on my kids bday parties, super book smart but total blonde ditz at the silliest things, full of crazy ideas, and always passionately looking forward to the next adventure in life!
I loved becoming a wife and a mom but had a feeling of losing my own identity once it all happened. I knew I wanted my womanly body back and wanted to reclaim my own sense of self not only for myself but to also keep being the sexy wife with my hubby and to set an example of self confidence and health for my daughters! So I set out to lose weight but being a busy wife and mom and business owner, I had to find creative ways to include it in my daily life. I am a total Biology and Anatomy nerd which made researching that side easy but I mostly used trial and many many errors to find my ways 🙂 So after hubby watched my fitness journey ...
What started as a dare with my husband Nick last June has grown into a fun and life changing journey! As a dare from hubby who told me I was just as hot as these Instagram models (sweet I know 🙂 ha ha), I posted a pic he took of me doing squats in the living room. We stood in our home kitchen figuring out a name for my new booty page and Texas Thighs was born.
It grew quickly and we kept getting more fun pics. Even photographers were reaching out to shoot but they were also so helpful and would give us tips for better pics of our own 🙂 My fitness journey kept evolving and others started asking what workouts I do. Other people reached out wanting me to post more pics. It was fun but was quickly becoming time consuming. I wanted to answer and be there for everyone that was being supportive. I was also dealing with online and offline haters that were reporting my page and pics. I knew that Instagram could take away my page if people kept falsely reporting me. I needed a spot for Texas Thighs that I could be in charge of and where I could combine everything. The website was born!
From scratch (with zero website knowledge), I worked and built this site. I am a stubborn Taurus so of course I decided I could totally figure it out myself. Little did I know what I was getting into 🙂 I researched and watched YouTube videos (which all sounded like a foreign language to me) and pushed forward with the goal of creating my own space to share all the things people were asking for. I wanted one spot for all of my content. It was def a labor of love. At night after my kids were in bed, if I wasn't doing squats, I was working on the site. I encountered every hiccup possible on building a site from loading plug ins to incorporating formats (blah blah) and including having PayPal (yep someone reported my site to them) suspend me from using the button until they could review my content. It was a hot mess most of the time 🙂 Beyond thankful for the amazing support of my husband thru every bit of it!!!!
The site has been so much fun though! I love making it better, I love including people more into my journey, and I have even made friends thru it.
I have been thru even more craziness thru this journey from having to upgrade security from haters and people trying to hack, from Instagram disabling my page for 3 weeks then stating it was just a mistake, to just normal every day issues as they come. I have had people call me all kinds of names and say really hypocritical things about me. I have had some family (people I have seen thru everything and always accepted them completely) decide that Texas Thighs is a disgrace. I have gone thru things I never even considered happening but....
I have been blown away by the amazing supportive people, I have been humbled by people saying I inspire them, I have been amazed at my own strength and perseverance thru the obstacles, I have been beyond blessed with my other family support and the people that love me as I am, and always insanely amazed at how this path has gone!
Then I was approached by Paige at the Dallas Observer about doing an interview. What? Interview me? Why little ole Courtney? I was in shock but also intrigued to share my story. I was nervous because even though Paige seemed super sweet and like she genuinely wanted my story, you never know how things can be spun. I am new to this IG world and this world where I get interviewed so it was definitely a leap of faith 🙂 Plus I am a total over sharer. I told friends that I just knew I would give Paige my entire life story and that the whole thing would just be crazy 🙂 I answered her questions and told her the Texas Thighs story including many more life details that she didn't even ask for ha ha 🙂 . She even asked Nick some questions over the phone. I didn't get to read the article until it was published. Such a weird feeling for sure. I was happy with it and happy with how much she got to include. Fast forward a few weeks later and a writer for a huge site decides to use the interview and write her own article about it. It goes crazy and gets shared all over Facebook. Things went crazy fast. Since then there have been other spin off articles that have been all over Facebook and Twitter. People are always messaging me like " Hey! I saw a story about you" 🙂 Click Here to view the articles!
The ride has been fast and crazy and amazing all at the same time. I am not stopping and only more excited for the rest of the Texas Thighs story as it continues to unfold 🙂 So happy to have all of you along the way.
Note: I keep detailed records. Plus my site tracks log ins. If you Falsely report your agreed apon membership charge as fraud, I will send proof to the bank then you will be billed for the bank charges (per each transaction disputed). A detailed invoice with proof will be mailed to your billing/mailing adress. If you have an issue or your card was used without permission, please email me. I can help you with any issues you have. If you report to your bank then you will be billed for the bank processing fees and i cant stop those . Please email me to prevent this issue.
And since everyone is always curious 😉
Measurements:
Height - 5'1
Weight - 120 lbs
Chest - 34 C/D
Waist - 25in
Hips - 38in